Doutzen Kroes
Doutzen Kroes at the 2013 Cannes Film Festival
Born 23 January 1985 (age 31)
Eastermar, Netherlands
Residence Amsterdam and New York City
Nationality Dutch
Other names Doutzy
Ethnicity Frisian
Occupation Fashion model, actress, philanthropist
Years active 2003–present
Spouse(s) Sunnery James Gorré (m. 2010)
Children 2
Relatives Rens Kroes (sister)
Modeling information
Height 1.79 m (5 ft 10 1⁄2 in)
Hair color Blonde
Eye color Blue
Manager Paparazzi Model Management, Amsterdam DNA Model Management
Viva Models
Women Management
Doutzen Kroes (West Frisian pronunciation: [ˈdʌu̯tsə(ŋ) ˈkrus]; born 23 January 1985) is a Dutch Frisian model and actress. She began her modelling career in 2003 in the Netherlands and quickly was sent by her agency to New York where she was cast by lingerie giant Victoria's Secret. She became an Victoria's Secret Angel for the brand in 2008. She has been a brand ambassador and spokesperson for L'Oréal Paris for over 5 years. Kroes has been in the top five of best-paid models, with an estimated income of more than five million per year since 2008. In 2014, she came in second on the Forbes top-earning models list (after Gisele Bündchen), estimated to have earned $8 million in one year. She is considered one of the "New Supers" and described as "Helen of Troy of advertising" by Models.com.
Unlike most fellow top models, Kroes got acquainted with the fashion world relatively late. She is one of few highly successful professional models who was not discovered by any scouting agency. She got accepted at Paparazzi Model Management in Amsterdam after sending some of her holiday pictures. Her first breakthrough was when she was featured on cover of Vogue Italia in 2005. Steven Meisel shot her pictures for the cover. Just as she started her career as model for Victoria's Secret, she was voted as "Model of The Year" on Vogue.com in the year 2005. The year 2013 was a significantly successful year for her modeling career. In September 2013, she appeared on covers of four international editions of Vogue, making her the first model/celebrity in the history. The September issues are generally regarded as the most important issue of the year for fashion magazines, especially Vogue. She had been featured on a total of 9 Vogue covers, a count more than any other model, just in the year 2013.
Her first film debut was in Nova Zembla (2011). She is one of the active members to contribute to Dance4Life, a Dutch non-profit organization that uses song and dance to educate youth about HIV and AIDS prevention. She is also one of the supporters of Wildlife Conservation and World Wildlife Fund.
Early life
Doutzen Kroes was born on 23 January 1985 in the village of Eastermar (Dutch: Oostermeer) with approximately 1,600 inhabitants, in the province of Friesland, Netherlands, to a Frisian family. Friesland is a typically rural province in the northwest of the Netherlands, with a population of less than 650,000 and its own language. Her mother was a nurse, then a teacher, and her father was a psychotherapist. In the 1970s they were both champion speed skaters. As a young girl, Doutzen aspired to be a professional speed skater.
Doutzen and her younger sister, Rens, a nutritionist, grew up with skating, cycling and eating healthy food. As she recalled:
I biked to school every day, about 25km there and back. My mum would say, if you go on your bike it will make you stronger. I think it did... In the countryside I was always outside, kind of like a tomboy... I never even thought about my looks. We didn't have social media so we couldn't look at other girls and pictures from magazines. We didn't really buy a lot of magazines; my mum and dad would just read papers... I felt super-young coming from the north of Holland, and I went to Amsterdam only once before I went to New York City.
Career
Modeling career
Kroes described herself as a "tomboy" in her youth. She had never seriously considered modeling, but found herself launched into the business after sending snapshots to modeling agency Paparazzi Model Management in Amsterdam in 2003. After graduating high school, Kroes was about 18 years old when she wanted to get a job to make some pocket money. The agency sent her to New York City, and after being cast a few times by Victoria's Secret, they asked her to try out as an "angel". When Kroes moved to New York from the Netherlands, she had never heard of the brand before.
Kroes has been featured on the covers of Time, Vogue, Harper's Bazaar, Seventeen, Elle, Marie Claire, Glamour, W, Avantgarde, Dazed & Confused, and Numéro. She also appears regularly in the Victoria's Secret catalog and walked the runway of the company's fashion show in 2005, 2006, 2008, 2009, 2011, 2012, 2013 and 2014. Kroes's campaigns include Gucci, Tommy Hilfiger, Versace, Valentino, Blumarine and Calvin Klein for both their 'White' label and their fragrance 'Eternity'. In 2005, Kroes was selected as "Model of The Year" on Vogue.com by readers. She was presented on the May 2007 cover of American Vogue as one of the "World's Next Top Models" next to Chanel Iman among others. Along with several of these models, she appeared in the 2008 Pirelli Calendar.
In 2006, a Frisian documentary directed by J.J.M. Jansen about a week in Kroes' life as a model was released. It documented Kroes at Milan Fashion Week and her thinking about the modeling industry. In July 2007, earning at an estimated total of $1.5 million in the previous twelve months, Forbes named Kroes fourteenth in the list of the world's 15 Top-Earning Supermodels. In April 2008, she was in fifth position, with an estimated income of $6 million. Forbes named Kroes fifth again in 2009 ($6 million), 2010 ($6 million) and 2012 ($6.9 million). Kroes escalated to the second position of the ranking in 2014, having earned $8 million the year before.
Kroes is in the official Frisian provincial campaign for the Frisian language, her mother tongue.
At the end of August 2008, Victoria's Secret confirmed to People magazine that Kroes was to be the newest Victoria's Secret Angel. Her first campaign as the brand's newest Angel was "Supermodel Obsession". In September 2009, she signed to be the new face for Swiss cashmere label Repeat for two years.
There is a wax figure of Kroes in the Amsterdam branch of Madame Tussaud's wax museum. From November 2009 to July 2010, Kroes wrote a monthly column about her life for the Dutch edition of Marie Claire. Kroes is signed by DNA Model Management.
In February 2010, Kroes returned to the catwalk during fashion week for Prada with fellow Angels Alessandra Ambrosio and Miranda Kerr. Prada was praised by former editor-in-chief of Glamour, Cosmopolitan and Marie Claire magazines, Bonnie Fuller in her blog for using a curvy model such as Kroes for the fashion show. In 2011, Kroes shot major campaigns for both L'Oreal and Tiffany & Co. In 2012, Kroes continued her work for L'Oreal, Tiffany & Co. and Victoria's Secret, and appeared on the cover of numerous international editions of Vogue.
In 2013, Kroes was Victoria's Secret Angel, as well as featured in the VS video, VS Swim 2013 Bikinis and Bruno Mars. She started her year-round contract with L'Oréal, starring in their advertisements. For Spring/Summer, Kroes was also used by Bruno Magli and Tiffany & Co; while in Fall/Winter, she shot for Emilio Pucci. In 2013, Kroes featured on the cover of more than ten magazines. These were: Vogue Germany (March), Vogue Korea (March), Vogue Japan (April), Vogue Netherlands (June and September), GQ Turkey (July), Elle France (August), Vogue China (September), Vogue (Spain) (September), Vogue Italia (September), Elle Portugal (December), Elle Norway (December) and Sunday Times Style (December). In September 2013, Kroes became the first model in history to appear on the cover of four international editions of Vogue in one month.
In 2014, Kroes appeared in the new Calvin Klein Reveal Fragrance commercial alongside Charlie Hunnam, as well as continuing her long-standing contracts. She also announced she ending her contract with Victoria's Secret after six years of being with the brand. She has walked in the 2005, 2006, 2008, 2009, 2011, 2012, 2013 and 2014 Victoria's Secret Fashion Shows. Kroes is considered one of the "New Supers" by Models.com.
Acting career
On 24 November 2011, Kroes debuted in Nova Zembla, the first Dutch 3D film made. Kroes has been taking acting classes in New York City for several years and has stated in interviews that she plans to act in more movies to come. In 2016 she was cast in Wonder Woman, as an Amazon warrior.
Other activities
She is actively involved with the non-profit organization Dance4Life, which uses song and dance to educate youth about HIV and AIDS prevention. She is an ambassador for the campaign "Praat mar Frysk" ("Just speak Frisian") to promote the Frisian language.
Public image
Kroes ranked #21 in the 2009 Askmen list of the top 99 "Most Desirable" women. She was ranked #55 in Askmen's 2013 list of the "Top 99 Most Desirable Women."
Personal life
In 2009 Kroes started dating Dutch DJ Sunnery James. On 15 July 2010, Kroes announced that she was pregnant with her first child by fiancé Sunnery James. On 7 November 2010, she and Sunnery James married in Eastermar. On 21 January 2011, Kroes gave birth to her first child, son Phyllon Joy Gorré. In February 2014 she announced her second pregnancy. On 22 March 2014 it was revealed Kroes was expecting a baby girl. Myllena Mae Gorré was born on the morning of 30 July 2014. Both children were born in Amsterdam, Netherlands. In an April 2014 interview on the future of her daughter, Kroes said: "Instead of saying, 'You're so beautiful', I'll say, 'You're smart', so she'll have different aspirations in life than beauty and modeling. Though I love my job, I'm not changing the world. I'd love for her to study and to have different aspirations. We need to teach girls they can become presidents, and it's not about beauty all the time."
Filmography
| | | | |
| --- | --- | --- | --- |
| Year | Title | Role | Notes |
| 2011 | Nova Zembla | Catharina Plancius | |
| 2015 | J'marche pas en arrière | Woman | Short film |
| 2017 | Wonder Woman | Amazonian Warrior | Curreost-production |
| | | | |
| Television | | | |
| | | | |
| Year | Title | Role | Notes |
| 2005 | The Victoria's Secret Fashion Show | Herself - Model | TV Special |
| 2006 | The Victoria's Secret Fashion Show | Herself - Model | TV Special |
| 2008 | Valentino: The Last Emperor | Herself - Model | Documentary |
| 2008 | The Victoria's Secret Fashion Show | Herself - Model | TV Special |
| 2009 | The Victoria's Secret Fashion Show | Herself - Model | TV Special |
| 2009-2011 | RTL Boulevard | Herself/Co-Host | TV Series (4 episodes) |
| 2011 | The Victoria's Secret Fashion Show | Herself - Model | TV Special |
| 2012 | The Victoria's Secret Fashion Show | Herself - Model | TV Special |
| 2013 | Men Expert L'Oreal | Herself | Short Film |
| 2013 | RTL Late Night | Herself | TV Series (Episode: #1.84) |
| 2014 | The Victoria's Secret Fashion Show | Herself - Model | TV Special |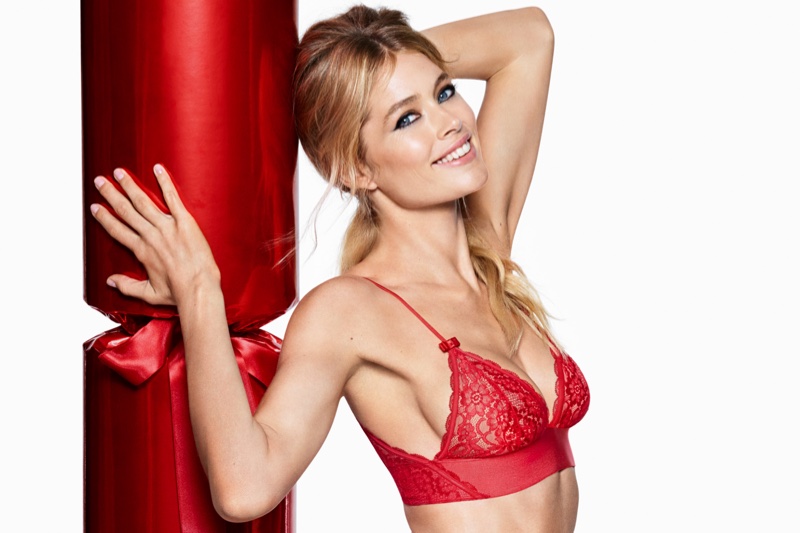 Doutzen-Kroes-HM-Lingerie-Holiday-2015
Doutzen Kroes and Victoria Secret Bikini
Doutzen Kroes walks the runway wearing Harness with Swarovski Crystals at the 2013 Victorias Secret Fashion
| | | |
| --- | --- | --- |
| | | |
| Doutzen-Kroes-voor-Victoria-s-Secret-in-2005 | | |